The hotel has at its disposal an open-air tavern with 80 seats and an indoor restaurant with 25 seats, which are suitable for weddings, christenings and other events.

Arbanassi hotel provides all the necessary conditions for an enjoyable and beneficial stay in every season.

We offer different additional services such as:
car park available for our clients
room-service
jacuzzi
cable television
wireless internet
washing, ironing, dry cleaning
postal and courier service
taxi cal
safe
rent-a-car
transport for outings in the vicinity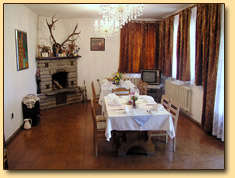 The hotel organizes excursions, walking tours for tourists, hunting and fishing outings. For those interested in the history and culture of the area, we offer sightseeing tours in the village of Arbanassi and the town of Veliko Turnovo. There is an equestrian sports centre in the proximity of the hotel where you can enjoy horse-riding for pleasure.

Attractive part of the new established project Arbanashki parkove - Lakoto is the ecotrail which connects two fountains known as The Golyamoto Lako and The Malkoto Lako. The ecotrail' length is 5 km and its beginning is in the immediate proximity of the Arbanassi hotel.

The ecotrail winds through the picturesque hills of the village of Arbanassi and reveals lots of marvelous panoramic views over the town of Veliko Tarnovo. The tourists have a closer touch to the beauty of the nature and enjoy the really huge variety of flora species. The visitors have the possilbility to choose between three of its main routes which create ideal conditions for pedestrian hiking and biking adventures of various difficulty levels.